For 2019, we have created a unique twist on your standard-issue ward, neighborhood, and polling-place maps!
Polling Place Map
This map is meant to help visualize where you are in relation to your polling place. Note that some wards actually share a polling place. We have included a few well known points of interest to make it even easier for you to orient yourself and find your polling place easier!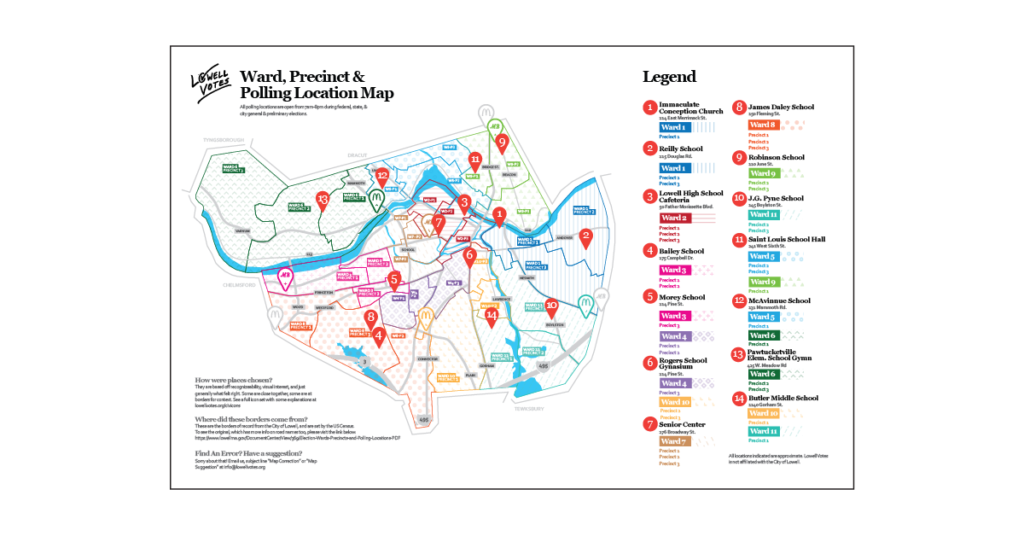 Download the Lowell Votes Polling Place Map!
---
Ward Map
Rather than focusing on street names, we have done our best to identify major points of interest or wayfinding markers in each ward and precinct in Lowell. Our hope is this will allow voters to more easily understand where they are, and also what voting segments may be around them.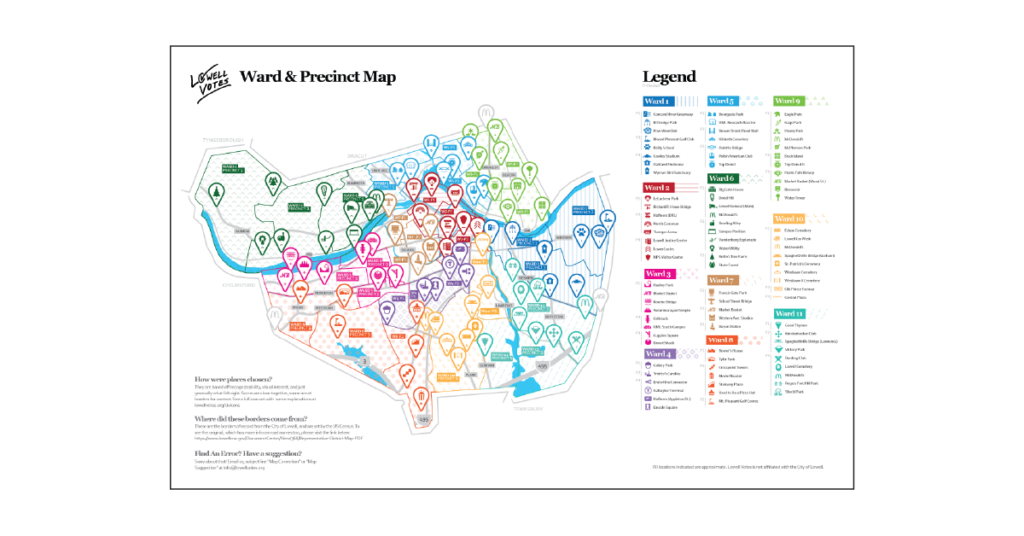 Download the Lowell Votes Ward Map!
---
Neighborhood Map
We also created this neighborhood map. Coupled with the ward map, we feel this can help visualize some of the voting options stemming from the recent voter rights lawsuit. What could a ward look like? How does that overlap with a neighborhood? Compare to find out!
Download the Lowell Votes Neighborhood Map!
---
Map FAQS:
How were places chosen?
They are based off recognizability, visual interest, and just generally what felt right. Some are close together, some are at borders for context. See a full icon set with some explanations at lowellvotes.org/civicons
Where did these borders come from?
These are the borders of record from the City of Lowell, and are set by the US Census. To see the original, which has more info on road names too, please visit the link below:
Find An Error? Have a suggestion?
Sorry about that! Email us, subject line "Map Correction" or "Map Suggestion" at info at lowellvotes dot org!
What other maps are planned?
Later this year, we will be releasing a State Rep map showing how Lowell's three districts break down.
Important Note: All locations indicated are approximate. Lowell Votes is not affiliated with the City of Lowell.